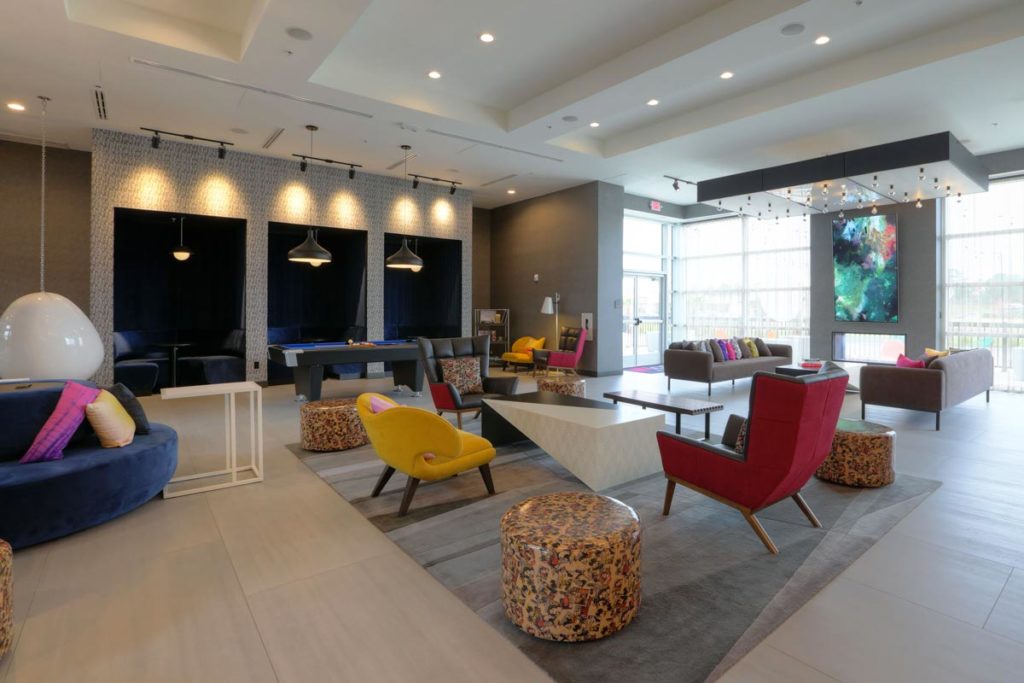 The Aloft Katy Mills Hotel recently completed an ambitious renovation project covering key areas like the lobby, restaurant, bar and meeting rooms. The transformation has taken the hotel into a new era of modernity and comfort, consolidating its standing as a first class destination for demanding travellers.
Throughout the renovation process, special attention was paid to optimising the environment and creating modern, welcoming settings. The furniture was meticulously selected to give a sense of modern luxury while the lights and other furnishings were carefully adapted to make interior spaces as inviting as possible. The hotel now stands out for its trendy, warm atmosphere and provides the perfect setting for guests in search of a break from the stress of daily life.
In addition to aesthetic improvements, the Aloft Katy Mills Hotel also put in place the latest technologies for improving the guest experience. The renovation work included the installation of high-speed Wi-Fi, for example. Flat screen TVs were also installed in the bedrooms along with electronic temperature control systems to allow guests to select the perfect conditions for their own comfort and make their stay a truly personal experience.
The results of this ambitious restructuring and refurbishment project speak for themselves. Guest experience has been radically improved, positive reviews testify to the hotel's excellent welcome and high level of technological innovation, and bookings have increased dramatically as guests demand increasingly advanced services for their hotel stays. Improved profit margins also testify to the success of the work and demonstrate how investing in modernisation and innovation really can produce positive results for the hotel industry.
To sum up, the Aloft Katy Mills Hotel has successfully shown how targeted renovation work, innovation and an eye for advanced design can transform a hotel into a sought-after destination for travellers in search of a premium guest experience. The hotel's evolution is a great example of how well-chosen design and renovation projects can bring prosperity to the hospitality sector.